View Dragonfly Sites, France in a larger map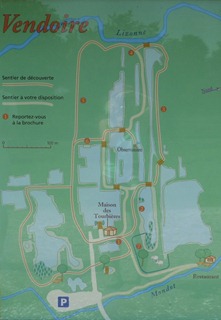 La tourbe is French for peat and les tourbières are peat diggings. Les Tourbières de Vendoire lie in the Périgord vert region near the small village of Vendoire, north-west of the gastronomically famous town of Périgueux – truffle country – and south of Angoulême. They were worked until the 1950s but the old diggings are now flooded and maintained as a nature reserve. It doesn't appear to have a very high profile but I learned of its existence from a BDS [British Dragonfly Society] publication which mentioned, I think, that it supported in excess of 40 species of Odonata.
What a draw! We called in for our first exploratory visit on our meandering way back north from the Languedoc to visit friends in the Marais Poitevin. We stayed at a campsite that turned out to be literally 200m/yds away from the car park for les tourbières. Since we were outside of the main tourist season, it was relaxingly quiet. There appeared to be a few long-term installations but those units turned out to be unoccupied. With the added advantage that the couple running the place were delightful, finding a pleasant campsite so conveniently situated to our target habitat was bliss.
We were at Vendoire for only two days and, given the weather we had been experiencing, I couldn't believe our luck; the weekend was perfect for Odos and me. The nature reserve is a series of some ten or so now flooded pits, bordered on the west and east by two modestly sized rivers. The mix of habitat types provided by the ponds/lakes is quite varied. These, together with the two rivers, offer a grand variety of conditions for the Odos. Hence, presumably, the boast of 40+ species. Actually, the couple running the campsite mentioned a number more like 50 species.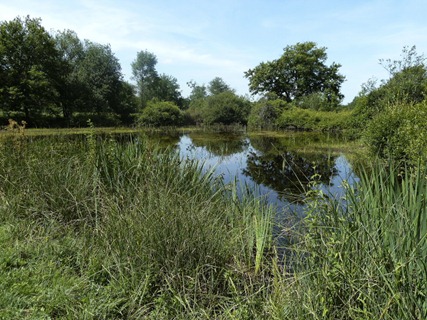 In our short visit amounting to a day plus two hours, we amassed a count of 28 species, one of which remains uncertain because it refused steadfastly to settle for a positive id, though I'm cautiously confident. In any event, the weather certainly showed off this place to very good advantage. I loved it, it's brilliant!
Here's what we spotted.
Damselflies
Banded Demoiselle
Beautiful Demoiselle
Willow Emerald
Winter Damselfly
Blue-tailed Damselfly
Common Blue Damselfly
Azure Damselfly
Large Red-eyed Damselfly
Small Red-eyed Damselfly
Goblet-marked Damselfly
Large Red Damselfly
White-legged Damselfly
Orange White-legged Damselfly
Dragonflies
Emperor Dragonfly
Lesser Emperor
Yellow Clubtail
Green-eyed Hooktail
Yellow-spotted Emerald [this was the uncooperative best guess]
Four-spotted Chaser
Broad-bodied Chaser
Scarce Chaser
Black-tailed Skimmer
White-tailed Skimmer
Southern Skimmer
Ruddy Darter
Common Darter
Southern Darter
Scarlet Darter
Technorati Tags: travel,France,Vendoire,nature,wildlife,dragonflies,damselflies,odonata,photography