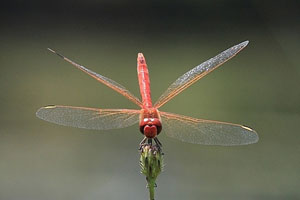 … to John & Carol's world of Odonata – dragonflies and damselflies.
Odonata is the scientific term for the order of insects comprised of dragonflies (Anisoptera) and damselflies (Zygoptera). [See Dragonfly or Damselfly for an explanation of the difference between a dragonfly and a damselfly.]
Odonata is sometimes Anglicized to "odonates" but it seems to be becoming more fashionable to use "dragonflies" as the collective English/common term forcing the rather ugly [my opinion] term "true dragonflies" to be used for, well, dragonflies. I stick to Odonata or Odos for short. Besides, the word lends itself to irresistible puns like "Odo-nutters" (us) and "Odo-natter" (the blog). 😯
The Species section is the meat of our website and dedicates a page to each species keyed by scientific/binomial names rather than English/common names. That segues neatly into my notes on naming. My decision to use scientific names was based on opening the content to an international audience. The top level Species page also has some notes on species numbers by geographic region.
In my view there are 45 species of breeding Odonata in the UK. According to Grand/Boudot, there are 89 in mainland France, i.e. within relatively easy [written prior to Covid-19] and fun (for us) reach; we travel there often. As opportunities arise we travel further afield and note what we've seen there, too.
For those that may be interested, I have also written notes on mating, some details of the process being unique to odonata.