Several mature males within the Libellulids develop a powdery blue coating called pruinosity (after the bloom that develops on some prunes); it is actually a waxy deposit. We can't help referring to these characters as "prunes", until we've identified precisely which prune, of course. 😉
In Europe there are six such potentially confusing species but in the UK we are limited to four, two of which are Chasers and two of which are Skimmers.
Scarce Chaser (Libellula fulva)
Broad-bodied Chaser (Libellula depressa)
Keeled Skimmer (Orthetrum coerulescens)
Black-tailed Skimmer (Orthetrum cancellatum)
That may change if further northerly migrations occur. This chart includes a couple of potentally confusing French species:
Southern Skimmer (Orthetrum brunneum) – tricky to differentiate from Keeled Skimmer
White-tailed Skimmer (Orthetrum albistylum) – looking similar to Black-tailed Skimmer
[In case this diagram proves difficult to read, click to open a larger version.]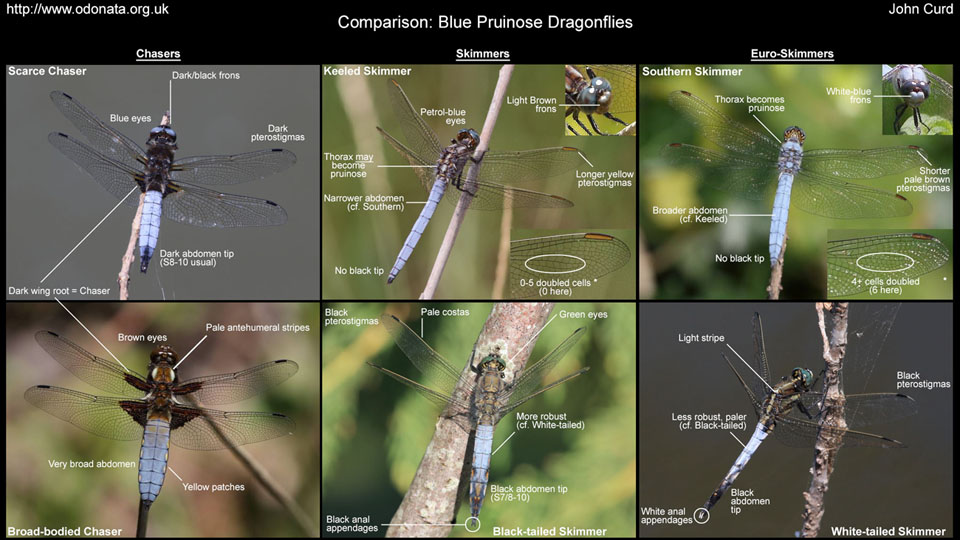 * Doubled cells "subtended by the Rspl"

Yikes!
One of the main distinguishing features between O. coerulescens and O. brunneum is the number of doubled cells above the Rspl: O. coerulescens is said to have 0-5 doubled cells, usually less, often zero, whereas O. brunneum is said to have 4 or more doubled cells, usually more (I have examples with 9 & 11). So, it's awkward because there is overlap in the specification: 4 & 5 doubled cells could be either.