Here's a collection of links associated with UK Odonata.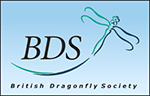 "The aim of the British Dragonfly Society is to promote and encourage the study and conservation of dragonflies and their natural habitats, especially in the United Kingdom."
Very laudable, which is why I joined. 🙂
Fellow Odonata enthusiast Paul Ritchie's photographic homage to dragons and damsels. Paul has some great notes on useful spotting sites in and around the New Forest.
Another fellow enthusiast's blog from the south of the UK. Paul Winter studies a mixture of wildlife but much of it revolves around Odonata.
A very informative and elegant site run by fellow dragonfly enthusiast, Doug Overton. Doug has some great pictures and some interesting suggestions concerning photographic techniques. I'm particularly keen on his Google Maps plan of dragonfly spotting locations in the New Forest, an idea which I've nicked! 😉
David's interests clearly match our own very closely – he has excellent photographic sections on Birds, Butterflies, Dragonflies and Damselflies.
How's that for a match?