Here's a collection of links associated with UK Odonata.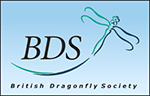 "The aim of the British Dragonfly Society is to promote and encourage the study and conservation of dragonflies and their natural habitats, especially in the United Kingdom."
Very laudable, which is why I joined. 🙂
A great site all about Odonata and the photography of them. Chris has some excellent photographs annotated with identification points for distinguishing particular species.
Fellow Odonata enthusiast Paul Ritchie's photographic homage to dragons and damsels. Paul has some great notes on useful spotting sites in and around the New Forest.
Another fellow enthusiast's blog from the south of the UK. Paul Winter studies a mixture of wildlife but much of it revolves around Odonata.
A very informative and elegant site run by fellow dragonfly enthusiast, Doug Overton. Doug has some great pictures and some interesting suggestions concerning photographic techniques. I'm particularly keen on his Google Maps plan of dragonfly spotting locations in the New Forest, an idea which I've nicked! 😉
A useful site for those wishing to hunt Odos in Norfolk with some very handy information about specific locations.
"This website is intended to be a friendly place where we can share our knowledge & expertise of these amazing and fascinating creatures."
This site's central raison d'être is a forum facility to contact its very helpful community of enthusiasts.
David's interests clearly match our own very closely – he has excellent photographic sections on Birds, Butterflies, Dragonflies and Damselflies.
How's that for a match?
"Home to Bedfordshire Odonata".
Regrettably, this site sweems to have withered on the vine – not updated since 2013. However, it WAS a good Odonata home featuring many excellent images with lots of useful information centred on my home county of Bedfordshire.